Thermopolis Wyoming destinations, parks and attractions
Are you going on a road trip to Thermopolis Wyoming, looking for tips about the destinations so you and your party can enjoy it, be comfortable and not spend a fortune?
Here are some of the top destinations in Thermopolis Wyoming and tips about visiting them
Thermopolis, WY -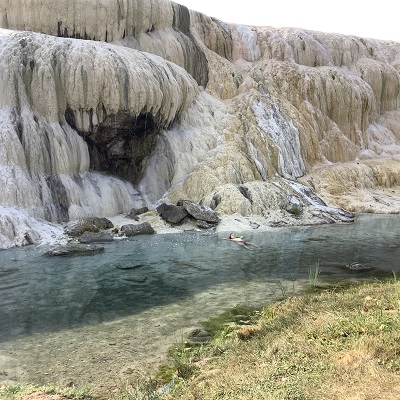 Super fun town... in the middle of nowhere. The main attraction is the natural hot springs with a free public bath house and 2 private springs with water slides. But there also dig dinosaur fossils there with an excellent museum and a trip to the excavation site. Plus a herd of bison, a beautiful river and hot springs.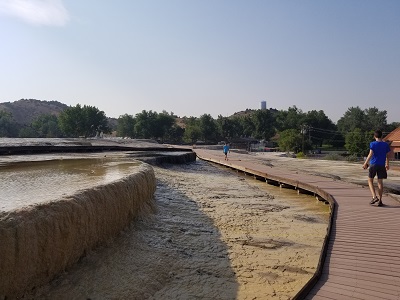 You can walk around the natural hot springs on the wooden path right behind Teepee pools. And if you drive on the road to the left of the public bath house, down to the boat lunge, you can walk in the river which is naturally warmed by the hot water from the springs.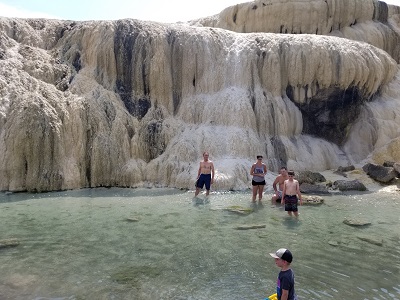 Star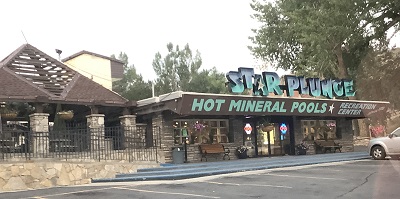 Plunge (hot sp
rings with slides), 115 Big Springs Drive, Thermopolis, WY 82443. Phone: (307) 864-3771.
This one was our preference. I went here when I was 10 many years ago, and they still had the all the slides, pools and saunas.

TePee P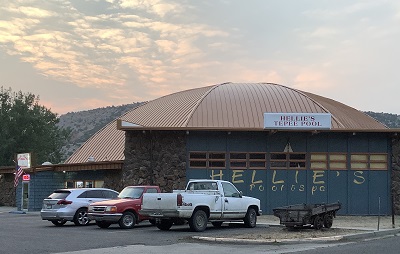 ools and Spa (hot springs with slides), 144 TePee Street, Thermopolis, WY 82443. Phone: (307) 864-9250.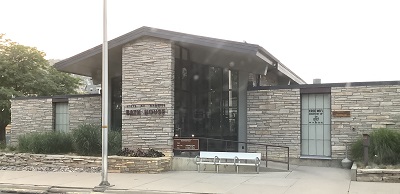 Hot Springs State Park Bath House, 168 Tepee Street,Thermopolis, WY 82443. Phone: (307) 864-3765. They have very limited hours, only 8 am to 1 pm daily, and hours may change! It is free and you're limited to 20 minutes in the baths, but they also have a spring-heated pool too. There are showers and changing rooms.
110 Carter Ranch Road, Thermopolis, WY 82443. Phone: (307) 864-2997.
This museum is fun and educations. Kids love seeing real dinosaur fossils. You can just walk around the museum, which coulld be an hour or two and also go out to see the excavations. A grad student takes you out in a van to the dig site. It's just like in Jurassic Park, well the beginning of the movie, which takes place in nearby Montana.
Thermopolis Wyoming Seasons, bugs, topography and climate
Located in the Rockies and at the edge of the plains, Wyoming has both landscapes. In the summer, it tends to be semi-arid, hot during day and cool at night. Winters can be brutally cold. Many roads are closed or impassible in the winter. Bugs are thankfully few!
Camping tips
If you're not from the Rockies, you may not realize that even in the middle of July, the air gets cool at night when you are a mile high, like in Yellowstone and the Tetons, and much of western Wyoming. It will dip to the 50's or 60's most summer nights. Summers tend to be dry with occasional popup evening thunderstorms.
There's a nice campground right at the edge of town, convenient to everything! Eagle RV Park; they do have a few spaces for tents at the back which are very nice.
There are both state parks and private campgrounds.