Planning Tools for Your Trip - mapping, guides and more
Tools... well, in the 21st century that can mean apps on your phone or PC as much as a shovel or hammer.
Planning tools
Mapping software
Essential for determining the best routes and the drive times, some also help to find interesting points along the way.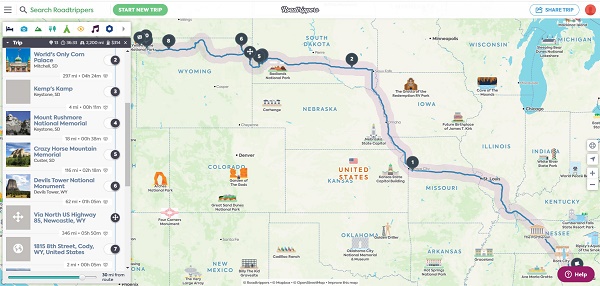 Free:
Apple maps can only do one point to one other point. Google maps is better, it has the ability to tell you the drive times and distances and do multiple points (up to about a dozen). So for figure how how far you can go in one day and how many stops you can squeeze, it is essential. But both of these are lousy at finding places along the way to visit.
Free (and a paid premium version):
For that you need RoadTripper.com. This software is a great planning tool, since it does the mapping part, with multiple stops, but also shows you points of interest along the way. You can define the radius (how many miles from the route to search) and set filters for the type of points of interest to display (campgrounds, sights, attractions, hotels, motels, fuel, dining, outdoor activities, etc.)
I use it to figure out basic feasibility of a trip, break it into daily trip segments and find fun and interesting places to stop and take breaks along the way. You have to stop for fuel, restrooms and food anyway, why not stop to do this at an interesting place?
Tools on the road
Once you are on your trip, your choice of mapping software changes to more practical:
Waze is the essential point to point GPS driving tool while you are on the road. It is the only app that alerts you to police, road hazards, traffic jams, alternative routes as well as mapping. It can only handle one stop along the way, so that is a limitation. I use my iPad and have both Apple maps and Waze running concurrently, with Apple doing the day's destination, and Waze handling the drive to the next stop in that day.
Another useful app is GasBuddy.com which helps you find the cheapest gas near you or near an city you enter.
Finally, getting gasoline that won't build deposits on your engine's valves is also important. Here's where Top Tier.com comes in handy. AAA recommends it. They suggest you should buy gas from the Top Tier-approved gas brands to keep your car running better. That's these brands: Notice that includes Costco and QT, but NOT Sam's Club or RaceTrac.
Top Tier Licensed Retail Brands in the United States:
76
ARCO
Aloha
Amoco
BP
Beacon
Break Time C Stores
Breakaway
CITGO
Cenex
Chevron
Conoco
Costco Wholesale
CountryMark
CountryMark PLUS
Diamond Shamrock
Express Mart
Exxon
Fast Fuel
GetGo
HFN – Hawaii Fueling Network
Harmons Fuel Stop
Hele
Holiday
Kirkland Signature Gasoline
Kwik Star
Kwik Trip
MFA Oil
Marathon
Meijer
Meijer Express
Metro Petro
Mobil
Ohana Fuels
Phillips 66
QT
QuikTrip
Ranger
Ranger Fuel
Ranger Mustang
Ranger Stallion
Ranger Thoroughbred
Reeder's
Road Ranger
Rutter's
Shamrock
Shell
Simonson Station Stores
Sinclair
Texaco
Tobacco Outlet Plus Grocery
Valero
Value America
WOW
Win Win
Updated: February 2021